Christmas Markets in Bolzano
Enjoy the magic with your family
The Christmas is knocking at door and it will host 80 exhibitors, 8 partners, 3 gastronomy stalls and a small market dedicated to children, guests and fellow citizens.

The children will be play around with the miniature train, the merry-go-round, the puppet theatre, the horse-drawn carriage through the streets of the city and much more.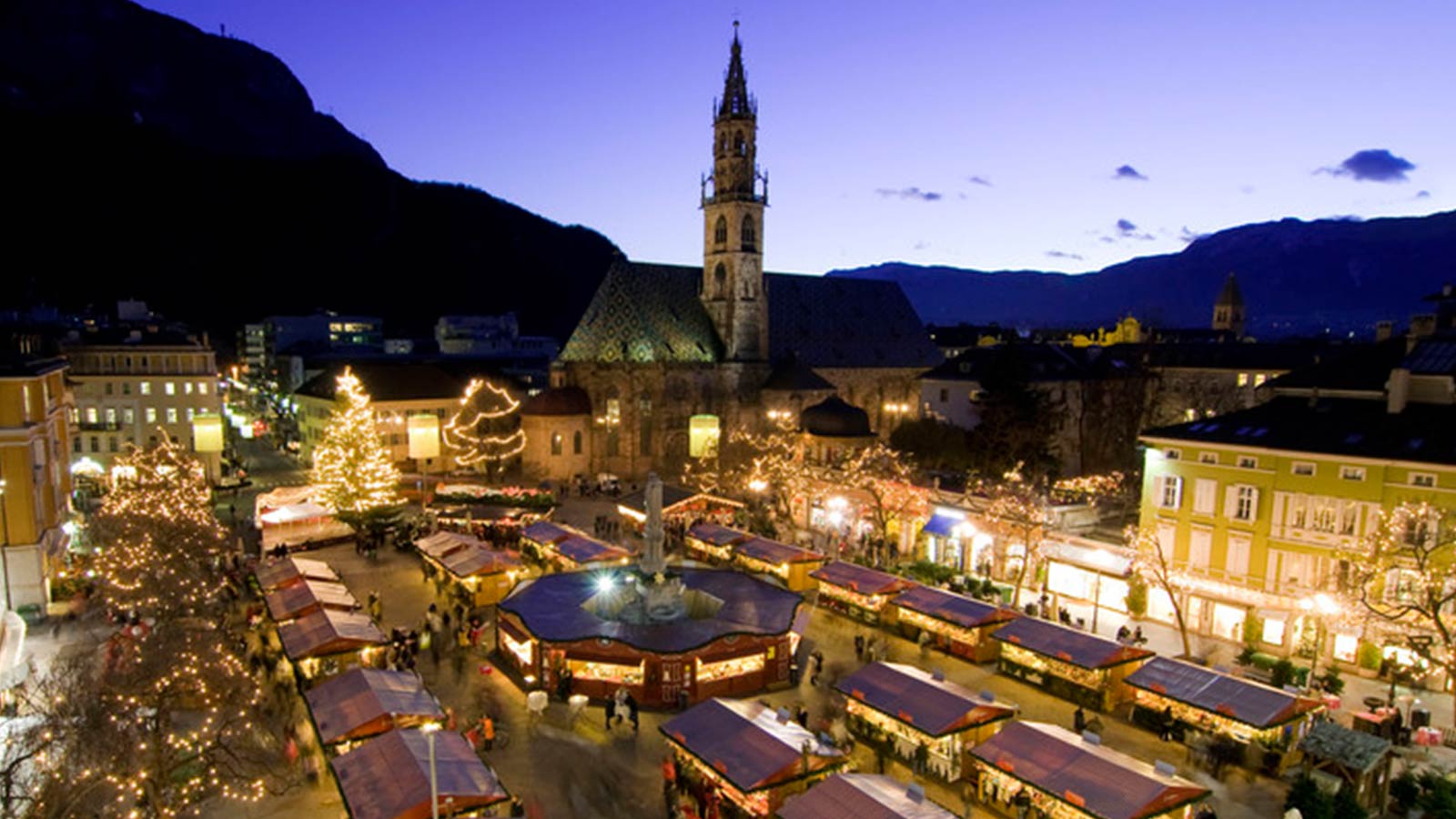 When
November 24h - January 6th
From November 24th 2016 to January 6th 2016: a time of great magic and charm that pervades the entire historical center of Bolzano, the lights and the colors are the protagonist and families invade the road, creating a dream ambience.
The Christmas Market in Bolzano was held for the first time in 1991.

Now there are five markets to invite you to live a unique path, diversified into the emotions of Christmas.
Where
Merano Markets: refined pastry shop, greediness for all the tastes, the way of the cribs and music invite to wander calmly in this city of cure.
Bressanone Markets: the art and the history, noble fifth, the Christmas Market in the historical atmosphere of the ancient episcopal city with the splendid sculptures of light.
Brunico Markets: the Christmas Market in this mediaeval city between the mountains with its traditional handicraft.
Vipiteno Markets: traces of a past for a long time forgotten are discovered everywhere.
What to eat
Tyrolean dishes
Gastronomy is a success story of these markets: fresh products on the various market stalls, from mulled wine to apple fritters, from apple juice to Strudel.

The attention to detail in setting the banquet, the quest for originality using the typical products of the territory.
The music surrounds the pleasant walk between a stand and the other, the fragrance of spices, biscuits, rolls and other dishes are just some of the ingredients that create a magical atmosphere.
Come to visit the Christmas Market in Bolzano
from November 24th to January 6th
As every year you can enjoy the Alpin version of the wonderful crib under the giant tree played with old wood.

Stroll and shop with your family between the various stalls featuring classic shaped house.

You will find traditional and local objects: the wooden statue, decorations, traditional sweets, clothing accessories, musical instruments, candles and Christmas balls decorated by hand.

The craftsmanship is the hallmark of the show. Native craftsmen, perform on stage of the market, demonstrating their skills. The whole organization is done in collaboration with the contribution of South Tyrol Artisans.